[Online Event] Think DX Think Design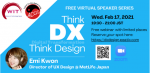 Wed, February 17, from 19:30 to 21:00 JST
Women in Technology Japan (WITJ) is proud to invite Emi Kwon as a keynote speaker to talk about "Think DX Think Design."

Emi is a UX Designer, Design Thinking facilitator and Social Science Researcher with over 10 years' experience across UX design, marketing & communications and tech industries. As a hybrid of a researcher and a designer, Emi enjoys exploring the intersection between design and psychology, and extrapolates DX strategy and UX design practices from that.
The digital world thrives on inspiration and innovation, and creativity drives disruption, change and transformation. Digital Transformation without design, however, is like having a space shuttle that we don't know how to use. In this webinar, we will take a look at how to harness the power of Design Thinking to deliver your unique digital transformation by driving human-centric design.
*Emi's session will be delivered in English.
◆Date & Time: Wednesday, February 17, 2021 from 19:30 to 21:00 JST
◆Admission: FREE
◆Registration : Pre-registration required
https://dxdesign.peatix.com/